Andy Willoughby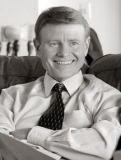 Andy Willoughby has been advertising his 3 Step Plan work at home business opportunity throughout the Internet and on many Christian radio stations. His ad spots are full of enticing promises and testimonials boasting incredible earnings.
So is the 3 Step Plan for real?
The problem with his advertisements is that he does not reveal what his program really consists of. They only tell you that you need a telephone, a computer with Internet access, and a positive attitude. However, after some digging around I was able to find out what you'll actually be doing in Andy Willoughby's 3 Step Plan.
What's Inside the 3 Step Plan Work at Home Program...?
The 3 Step Plan is really a system of tools and strategies for making money from the Xango Juice Multi Level Marketing business opportunity. For those of you who aren't familiar with Xango, it's a popular product derived from the Mangosteen fruit.
The juice is high in antioxidants and other nutritional elements and due to that is sold at the high price of $40 per bottle. The MLM aspect of the business means that XanGo juice is not sold in retail stores but only through independent distributors.
As a distributor you get access to XanGo Juice and are authorized to sell it and recruit a down line of distributors to increase your profits. From researching Andy Willoughby's 3 Step Plan it seems that he's offering you a chance to invest in a radio co-op where the leads derived from his radio advertising will be shared amongst his members and should help you build a large down line and customer base.
When you put it all together you need to invest an initial membership fee of $35 and you're also required to purchase a minimum of 1 case (that's 4 x 25oz bottles) of XanGo Juice per month at a whole sale price of $100. And when you sell a bottle of XanGo Juice you'll earn a profit of around $15 per bottle.
The MLM aspect comes in as a second stream of income since you get 5% from your down lines sales. Actually much of the criticism of MLM comes from this aspect as some people tend to focus more on recruiting rather than the product.
So is Andy Willoughby's 3 Step Plan a Scam...?
His plan is not a scam since all he's doing is charging you an additional monthly fee to receive leads for your business. If you're someone who's been successful with MLMs in the past and know how to build a large customer base and down line then you don't need Andy Willoughby's 3 Step Plan.
There are better ways to earn a income on the Internet..
I prefer the Commission Blueprint approach.
---
Sign up for my newsletter and get a
"Free Gift"